| | |
| --- | --- |
| | Part of the American History & Genealogy Project |
Emma Willard 1787 ~ 1870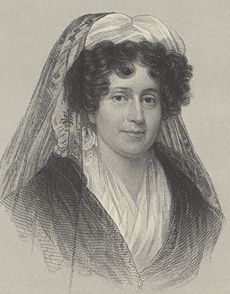 Emma Willard
Emma Willard, born in Berlin, Connecticut, in February, 1787, was one of the women whose names received votes for a place in the Hall of Fame. Her biographer, Dr. John Lord, in summarizing her claim for immortality in the hearts of her fellow-citizens, declares that her glory is in giving prominence to the cause of woman's education. In this cause she rendered price-less service. When we remember the institution she founded and conducted; the six thousand young women whom she educated, many of them gratuitously; when it is borne in mind the numerous books she wrote to be used in schools and the great favor with which these books have generally been received; when we think of the zealous energy in various ways which she put forth for more than half a century to elevate the standard of education of her sex, it would be difficult to find a woman who, in her age or country, was more useful or will longer be remembered as both good and great. Not for original genius, not for immortal work of art, not for a character free from blemishes and blots, does she claim an exalted place among women, but as a benefactor of her country and of her sex. In this influence she shed luster around the home, and gave dignity to the human soul.

Emma Willard was deeply religious, and never lost sight of the highest and noblest influence in her educational work. Beautiful hymns which she composed were sung by her pupils in the "Troy Female Seminary," of which, for many years, she was the head.

An interesting occasion in her life occurred in connection with a visit of General La Fayette to this country in 1825. His services in the cause of American Independence, in upholding the constitutional liberty in France and his mingled gallantry and sentiment early gave him prominence and fame, and made him an idol of the American people.

All this feeling Mrs. Willard had nobly imbued in the verses with which she celebrated this distinguished visitor's coming to her school in Troy. The young women of her school sang this poem before General La Fayette, who was affected to tears by this reception, and at the close of the singing said: "I cannot express what I feel on this occasion, but will you, madame, present me with three copies of those lines to be given by me as from you to my three daughters?"

Emma Willard was a woman of loftiest patriotism, and her "National Hymn" deserves at least equal appreciation with Doctor Smith's "Columbia," Her prose displays uncommonly strong mental powers and endowments. She published a large book or treatise on the motive powers which produce a circulation of the blood, which gained her great praise both at home and abroad. In 1849 she published "Last Leaves From American History," giving a graphic account of the Mexican War, and later appeared her "History of California" and a small volume of poetry.

In Emma Willard's case the promise of the Psalmist, "That the righteous shall bear fruit in old age," was splendidly realized. To the close of her long and useful life she maintained her youthful vivacity, her enthusiasm of spirit and her power of work. Every Sunday evening she gathered around her hospitable board her children, grandchildren and great-grandchildren, as well as her friends, and heard them repeat passages of Scripture. This was a habit of many years. Beautiful were those family reunions, but the most beautiful thing among them was the figure of the benignant old lady. Entering into every subject of interest with the sympathy of youth, she received from all the profoundest reverence and respect.

She died April 15, 1870, at the age of eighty-three. A distinguished educator said of her at the time of her death, "In the fullness of age she approached the termination of life with the calmness, Christian philosophy and faith of a true believer." The place of her death was the old seminary built at Troy where, half a century before, she had founded an institution which was an honor to the country, and where she taught the true philosophy of living and dying, works done in faith made practical in works.

Source: The Part Taken by Women in American History, By Mrs. John A. Logan, Published by The Perry-Nalle Publishing Company, Wilmington, Delaware, 1912.